We offer complete car care service from routine dealer recommended maintenance to complete diagnostics and full service auto repair. We know that our reputation is built "one customer at a time" and we appreciate your business.
We offer comprehensive auto repair services designed to get you back on the road quickly and affordably. Our shop services domestic and imported cars, trucks, and SUVs. We specialize in preventative maintenance services (oil change, tire rotation, etc.) and we have highly qualified technicians for muffler and brake services, exhaust systems, internal engine repair services, electronic services, transmission work, and heating and cooling repair.

Done Right. Period. That's how we do things at Tuffy Tire & Auto Service Center. That's why only Tuffy offers a 2-year/24,000-mile guarantee on parts and labor you can take to any store. Plus, we offer a courtesy inspection with every Tuffy purchase. It covers tires, brakes, fluids, exhaust system, battery, belts and more. With every purchase, we even give you 12 free months of roadside assistance, too. We call it ToYourRESCUE®. Our work will be Done Right. Period. Or we'll fix it for free. Now that's what you call Tuffy totally having your back.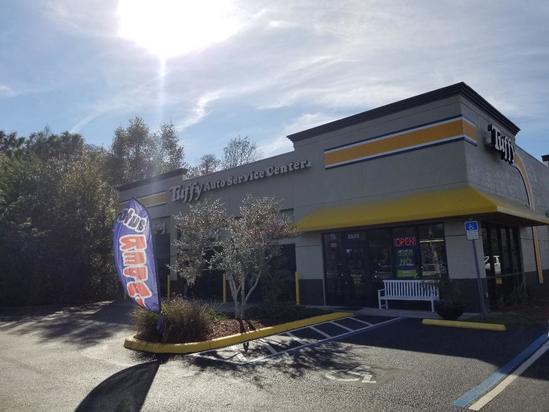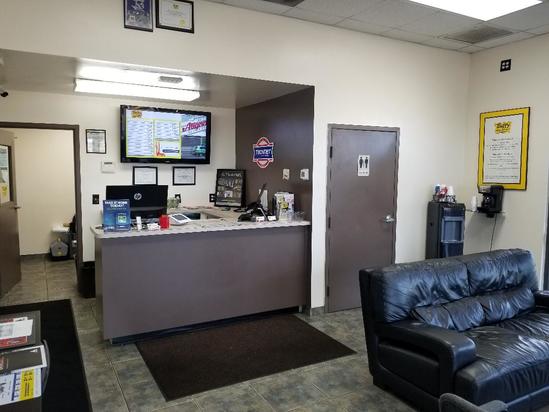 "Always satisfied. Excellent costumer service. My truck purrs "

Mary Pring

Dec 17, 2020 – New port w, FL
"Great people"

Cindy Stevens

Jul 29, 2020 – New Port Richey, FL
"Great service! John kept up with me during the whole repair and was happy to answer any questions I had. They were amiable to my decisions, frank with the info and helped however they could. John, Jay and their crew are awesome and they've made a customer for life!"

Tony S

Jul 22, 2020 – New Port Richey, FL
"Thank you so much for helping me out - I panicked when the window rolled down and was dead. Thank you for taking such great care of me!!!!!!! "

Robin L

Feb 09, 2020 – New Port Richey, FL
"I have come to this Tuffy location for the last 10 years... Obviously, I get OUTSTANDING SERVICE here... Thank you to ALL the employees here... Especially Jason"

Susan H

Jul 21, 2019 – Trinity, FL
"While traveling through the area on Sunday morning, our vehicle refused to start after stopping to get gas. Not knowing the area, I googled the nearest auto service locations and selected between two options. I couldn't have selected a better service. I called John at Tuffy's and explained my situation. He recommended an amazing towing service and we had the vehicle towed to Tuffy's. I cannot commend John and Rick enough on their professionalism and caring dispositions. As a single mother traveling with her children, both men quickly reassured me that we would be taken care of. And we were! From engaging my girls with animated discussions, to keeping me in the loop on the progress of my vehicle, I cannot commend them enough on their service and their compassion. All in all, it took less than an hour to have us back up and running and on our way home! I am amazed and eternally grateful for such an amazing team and for turning a bad experience into a great one! Thank you so much for taking care of us!"

Tulin Koch

Jun 18, 2019 – Santa Rosa Beach, FL
"Exhaust fumes in cabin were quickly diagnosed and repaired. Great service at reasonable cost."

Richard J

Jun 09, 2019 – Holiday, FL
"Staff was friendly, professional, helpful, and very quick. They physically showed me where their recommendations were warranted and explained policies to help me understand everything. "

Anne D

Feb 11, 2019 – Port Richey, FL
"I would like to commend Andrew Benjamin of TUFFY-NPR for making a cloudy day brighter for us this week. Our front blinker light stopped working and nowadays it is near impossible to replace by yourself without removing the whole front end of the vehicle. We took a chance and stopped in Tuffy without an appointment. Andrew welcomed us with a smile, told us he would service it immediately and was very reassuring that it would not be an all day job since we had groceries in the car. Within a short time he confirmed that the bulb was in stock, accessible by a mechanic's hand smaller than his and mine, LOL, and the charge would be minimal. It is always a real pleasure dealing with this Tuffy location with employees like Andrew, John, the manager and the mechanics since they are so polite, friendly and above all honest. Thanks Andrew for another pleasant experience. P.S. Kudos to Tuffy on the remodel of their lobby restroom. It is exceptionally clean, brightly painted, spacious and has the feel of a living room! All that is needed is a recliner and some vintage video games like PacMan and Donkey Kong and I would be happier to wait in there instead of the front lobby. LOL Thank you Tuffy once again for a job well done. John S."

JOHN S

Oct 12, 2018 – NEW PORT RICHEY, FL
"I would like to commend John Stauff, service manager, for the excellent and efficient service we received at Tuffy's (New Port Richey) today. Our car battery had to be jumped twice to start our vehicle. I called John and he advised us to bring the car to him asap and he would assess and resolve the problem. It was a Saturday and I expected to wait hours. As soon as I arrived he had a tech inspect the car immediately and diagnosed a dead battery. He replaced our battery, checked our tire pressure, had the mechanic explain the fault to us and told us no charge, under warranty, music to my ears! We truly love Tuffy's since everyone there is so friendly, courteous and honest. I will recommend John and his staff to all our friends in need of a fair, reliable and welcoming auto comprehensive service center. Thank you John for making our weekend happy and functional again. See you next time for certain."

JOHN S

Sep 22, 2018 – NEW PORT RICHEY, FL
"Yesterday was my second time coming in and I got great service again and I will continue to come in with any vehicle I own. Thank you for the great service and continue to do what is right and true to and for your customers and your business!"

Ken Guarino

Aug 10, 2018 – New Port Richey, FL
"I was very pleased with the service I received. I went there for a oil change and tire rotation. They were courteous enough too change out my old hubcaps and put on my new ones, free of charge. My entire visit was within 1 hour. The men are new, but the service is the same. I would definitely recommend their service."

Samantha Vinson

Jun 08, 2018 – Port Richey, FL
"Friendly, informative and very fast oil change."

Kenton L

Jun 08, 2018 – Port Richey, FL
"Totally Impressed. 5 Stars across the board. Management, Staff and Facility are exceptional. Honest and trustworthy. Little Rd Tuffy is great !!!"

Andy Y

Apr 04, 2018 – New Port Richey , FL
"We were pleasantly surprised when we showed up without appointments and were taken right in for oil changes for BOTH our vehicles within minutes. The customer waiting room is very inviting and comfy. We were extremely impressed with the manager, John Constantinou, who answered all our questions, told us of coupon specials we were eligible for so we could save some money and was not pushy to buy services not needed. Hard to find good honest places like this. We are permanently Tuffy 5049 Little Rd 34655 Customers from here on !!!"

Cheryl Y

Apr 04, 2018 – New Port Richey , FL
"We look at this Tuffy location as being our personal mechanic. Every person n there is friendly and treat you as family. We find their work to be Great. We find their pricing to be right in line and fair. It is ALWAYS a Pleasant Experience. "

Susan H

Dec 31, 2017 – Trinity, FL
"I never worry about being given false info. They always do what they can to mitigate costs. "

Amee G

Dec 05, 2017 – Trinity, FL
"By far the best service in town. John is very honest and knowledgeable. Nothing but professional. A class act. I will never go anywhere else."

Benjamin Font

Nov 27, 2017 – trinity, FL
"Everytime i come in, the staff atTuffy's take excellent care of me, the Mechanics in the shop do superior work, courteous, honest, friendly, and overall excellent folks, alway go to Tuffy's when ever i need my vehicle maintnenced."

Wil D

Nov 16, 2017 – New Port Richey, FL
"Friendly and timely oil change service in my experience recently. Definitely will be returning in the future. "

Scott M

Oct 25, 2017 – Hudson, FL
"Service was quick and good, unfortunately the technician didn't cover the cars floor mat with a paper mat as most garages do and left 2 large grease stains on the carpet, I mentioned it to the staff and his response was "oh really". I forwarded a picture of the mat to the shop and suggested they begin using paper mats to protect the customers carpets."

John D

Oct 20, 2017 – New port richey, FL
"I moved to Florida a year ago and have been to Tuffy's for my service needs on both vehicles. My son has also been using Tuffy's for his service. We have both been pleased with the attention they give and the speed and quality of services we have received. Thank you all."

Robert M

Sep 25, 2017 – New Port Richey, FL
"I trust these guys 100%.They have always been honest and saved me a lot of $ I would have paid the dealership."

Penny Y.

Sep 06, 2017 – New Port Richey, FL
"I trust these guys 100%.They have always been honest and saved me a lot of $ I would have paid the dealership."

Penny Y.

Sep 06, 2017 – New Port Richey, FL
"These folks are honest and efficient, and deserve your business.. They will work very hard to correct any problem with your vehicle."

Mel Thompson

Jun 22, 2017 – Niagara Falls, FL
"This place ROCKS! I was treated great by Jay( god I hope I got his name right) Staff was great. I got a nice hand shake and a thank you for your business when all was done. They will get all my business. Thank you "

Jim

Jun 20, 2017 – Port Richey, FL
"Great service and up front and honest information of what to expect cost-wise. I left my vehicle and was given a ride home. My vehicle had to stay at the shop overnight and I was also offered a ride back to the shop the next day. Very professional service!!! Thanks guys!!!"

JB Z

Jun 11, 2017 – TRINITY, FL
"I went in for oil change with Coupon. Needed other work done. Needed Oil guard put back on and dash light checked out. No charge either. Great service and very polite AND did not get a list of things that needed to be addressed in the near future (I appreciated that) Have been there many times and will continue to use them."

Fred Lowell

Jun 08, 2017 – New Port Richey, FL
"I visited the business for the first time and was greeted immediately with a smile. The professionalism and customer service was great. I will continue to service my vehicle here."

Michael Mency

Jun 07, 2017 – New Port Richey, FL
"After many people telling me not to go here, I have been taken care of!! I go to them for basics, and they sometimes have an additional service, and sometimes not. I always get a second opinion at a variety of places. They do come in at a very high price for me sometimes, so even if I go elsewhere, they welcome me back every time!! I will continue to return"

Amy E

Jun 05, 2017 – New Port Richey, FL
"My search or a honest repair facility ended when I went to Tuffy. Dennis on the desk and the mechanics have been upfront, honest and stand behind their work. I have recommended this place to my family and friends and have no reservations for doing that. This is the only place I will take my car. Thanks guys"

Jim H

May 02, 2017 – Trinity, FL
"Fast, friendly, professional service."

Dalton J

Apr 04, 2017 – New Port Richey , FL
"I needed someone to service my vehicle as I recently moved to the area. Getting a flier and seeing the shop when I was out shopping I gave Tuffy a try and am glad I did. Service was great and will use them in the future. "

William R

Mar 24, 2017 – New Port Richey, FL
"I called on Thursday at 4pm with miss in the engine and they fit me in on Friday morning. They had to diagnose the issue, get 2 coil packs and 6 spark plugs, remove & reseal the valve cover and even changed the oil BEFORE 5pm Friday. Great bunch of guys. Very professional and courteous."

Raymond S

Mar 13, 2017 – Hudson, FL
"I recently came back to Tuffy for some repairs. I love how they always work you in and finish the job in a reasonable time. Thanks John for taking care of us.We will be back for sure!"

Cristina Chisholm

Feb 21, 2017 – New Port Richey, FL
"Fast, friendly, and VERY professional service! These folks do the job right the first time!!"

Dalton J

Feb 11, 2017 – New Port Richey , FL
"Fast, friendly, and VERY professional service! These folks do the job right the first time!!"

Dalton J

Feb 11, 2017 – New Port Richey , FL
"I can state with confidence that this shop operates with good old fashioned fair and honest service and is worth recommending to others. THANKS GUYS!!!!!!!!!"

Mel Thompson

Jan 14, 2017 – New Port Richey, FL
"Thank you for your excellent service. I can't believe how fast you worked my car in and was done promptly.Great customer service at this location. Thank you John for your help. I will definitely return for future work."

Cristina C

Dec 14, 2016 – New Port Richey, FL
"The entire TEAM @ this Tuffy is OUTSTANDING. So Professional and Customer Service oriented. I feel like I have my own personal mechanic to take care of my automobile.VMOYMH"

Susan P

Nov 18, 2016 – Trinity, FL
"The only reason I continue to come to the shop is because the Manager Bruce. The other employees are nice and make you feel at home but Bruce knows you by name and if they make a mistake they will correct it."

Rob R

Sep 02, 2016 – Trinity, FL
"Great service and quick! Priced well. Will be coming back!"

Pam M

Aug 06, 2016 – New Port Richey, FL
"I would like to highly commend Dennis Naumann, the manager @ Tuffy, for the excellent service and attention he afforded us today. It was Sunday noon and the shop was swamped with work. We arrived with our vehicle, engine still running, because our dead battery had just been jumped and to shut it off would have marooned us at Tuffy. Dennis attended to us immediately and although he was fully booked until closing he assured us that he would help because he sincerely cares about his customers. Dennis immediately thoroughly checked the electrical system and assured us that it was only a dead battery. He checked our warranty and told us that we were eligible for a proration. In summation, we were out of the shop in less than 30 minutes with a new battery and a new 4 year warranty for under $50.00. We have always had excellent experiences at Tuffy with all their employees and much cheaper prices than at the car dealer. They even installed a hard to replace turn signal light once for us for free! Keep up the excellent job Dennis and your carside manner and personality are superb. That's what keeps the customers coming back, including me and the friends that I will refer to you. Thanks again. PS your coffee isn't bad either. Now add a doughnut and I just might be tempted to blow a fuse under the dash. LOL J.S."

John S

Jul 10, 2016 – New Port Richey, FL
"just left the store on little road, not expecting to get in because they close in two hours, and every bay was full, i only had to change two tires , but they got the job done in 45 minutes... i hardly every write comments , but this is needed. john and the boys handle my repairs, with good prices and a honest advice every time i come in... this will always be my first choice in repairs , thanks tuffy "

gary Fillmer

Apr 27, 2016 – New Port Richey, FL
"I was very happy with the service at this location. Traveling and needed a oil change and tire rotation. Staff friendly and service was great. I was told it is under new management, maybe that explains the previous reviews. I would recommend Tuffy's."

Jerry H

Feb 27, 2016 – New Port Richey, FL
"I have been going to Tuffy for years with great service. But what prompted me to write this review is this. My son was heading back to college in Ft Myers and right before he was leaving we noticed a nail in his tire. So he was losing air. It was 5:50 and Tuffy closes at 6:00. They stayed open until he got their and repaired his tire. That to me is great customer service. Thanks again John and the tech that stayed. "

Krista G

May 04, 2015 – Port richey, FL
"They were very down to earth friendly people. Fixed my problem an kept me updated. DID NOT try to charge me for random little stuff. I WILL be goin back for future service"

Kevin L

May 04, 2015 – Port richey, FL
"I received excellent service from Tuffy New Port Richey.The service agent advised me that all four tires should be replaced on our company vehicle because they were becoming worn out. My company approved the service and we got the ball rolling. Soon after my company called me back and asked for me to cancel the service after I had already paid in full. This was no problem for Tuffy even though they had already placed an order for the tires to be delivered! They immediately voided the transaction and sent me on my way with a smile on my face. Tuffy New Port Richey and all of it's employees were very accommodating and exceeded my expectations. Thanks Tuffy! "

Randall S

Feb 27, 2015 – Tampa, FL
"I have been a customer at this location for several years. The management and service associates are always willing to help and offer advice concerning any auto or truck problems I may encounter . I have had all of my vehicles serviced here from my BMW Z4 Roadster to my 2008 Honda Civic and my 15 year old Ford F150 Truck. Bruce and his team have always been able to service these vehicles when other service centers either would not or could not service them. I would recommend this Tuffy's Auto Service Center to anyone who wants their car repaired correctly at an affordable price. Dale Frantz New Port Richey"

Dale F

Jan 24, 2015 – New Port Richey, FL
"I am beyond impressed with the service that Bruce, Anthony & Andy provided me (multiple times) at your New Port Richey, FL (Little rd.) location. All three of them were incredibly professional, patient, (with me) helpful & worked hard to solve my vehicle problems. I was treated with dignity & respect by all three of them every time I interacted with them. Being a single female that means a lot to me. I will be recommending this location to many. Thank you all so much for your hard work, patience & professionalism."

Lindsey

Mar 25, 2014 – New Port Richey, FL
"With 3 kids to drive around to soccer practice, ballet, girl scouts, catechism, etc. car troubles are a huge deal in our house. We literally don't have time for car repairs. So, it was a pleasant surprise to have our car diagnosed, repaired and back on the road the SAME DAY at Tuffy! Highly recommend this garage. "

Gina L

Jun 11, 2013 – New Port Richey , FL
Show more